Web Resources
The following are some websites that may be helpful/supportive to those of you beginning your journey up the hills and through the valleys of cancer, with your beloved pet.
Wilson Mobile Veterinary Services
Compassionate In-Home Care
Wilson Mobile Veterinary Services provides veterinary care in the comfort of your home within London and surrounding areas including Lucan, St. Mary's, Thorndale and Ilderton, Ontario.
The Institute for Comparative Cancer Investigation (ICCI)
The Institute for Comparative Cancer Investigation (ICCI) at the University of Guelph is dedicated to providing comprehensive cancer care for companion animals and unlocking the deadly secrets of the disease for the benefit of all species, including humans.
PETCARD
With Petcard everyone can afford the very best in pet care. Petcard offers a variety of ways you can choose for your veterinary services. You can choose to finance the full amount, or Petcard can finance a portion. Your equal monthly payments can also be customized to suit your budget; payment options range from 6 months to 5 years.
CareCredit
CareCredit is a flexible patient/client payment programme, specifically designed for healthcare expenses, that makes it easier for you to get the treatment or procedures you want and need, for you and your companion animals. CareCredit is ideal for co-payments, deductibles, treatment and procedures not covered by insurance plans. CareCredit offers a full range of No Interest and Extended Payment Plans for treatment fees from $1 to over $25,000.
Animal Cancer Therapy Subsidization Society
The Animal Cancer Therapy Subsidization Society, formally, "The Lucky Moffat Memorial Fund," is used to subsidize the treatment of pets in Alberta, whose owners are unable to pay for extensive cancer treatment.  All Alberta veterinary clinics have information that explains how to apply for subsidization, including forms for pet owners to complete.
The Farley Foundation
The Farley Foundation helps sick and injured pets that belong to low- income seniors and people with disabilities. The Foundation offers financial assistance to veterinary clinics in Ontario to help cover the cost of providing necessary veterinary care for pets belonging to seniors receiving the Federal Guaranteed Income Supplement or people with disabilities who receive the Ontario Disability Support Payment, and who cannot otherwise afford treatment for their pets.
Land of PureGold
Welcome to the largest Golden playground in cyberspace! On the web since 1997, we are teaching others how to strengthen and proactively lengthen the Human-Canine Bond. And, we are developing creative media to raise funds for research in comparative oncology.
Army of Women
The Dr. Susan Love Research Foundation's Army of Women is a revolutionary initiative changing the face of breast cancer research.  Their goals are to recruit women and men of every ethnicity with and without a breast cancer diagnosis and those at high risk, to connect researchers with women and men who are willing to participate in breast cancer research studies, and to challenge the scientific community to expand its current focus to include breast cancer prevention research conducted on people.
Natural Rearing
This site exists to provide information on Natural Rearing (Juliette de Bairacli Levy's time honoured recipes) and alternative, holistic, and complementary health care for pets.
Dr. Rona Sherebrin, DVM, CVA
Traditional Chinese Veterinary Medicine, including Acupuncture, Chinese Botanical therapy, Nutrition, Tui-Na bodywork massage
Animal Cancer & Imaging Centre
The Animal Cancer & Imaging Centre, is dedicated to providing the best possible cancer treatment available for your pet. They use state of the art equipment and the latest technology.
Treat Mesothelioma
Mesothelioma Treatment Community is designed to answer your questions. First, we can start with the basics…
Shirley's Wellness Cafe
Preventing and Healing Animal Cancer: The Holistic Approach; Alternative and Complementary Therapies for Animals with Cancer.
LynnMcKenzie Animal Intuitive
Lynn McKenzie is an internationally known Animal Intuitive offering phone consultations, workshops and teleclasses in Animal Communication and Energy Healing. Her work is co-creative and very enlightening. Her passion lies in helping others to attune and awaken to the teachings and wonder that all sentient beings wish to share.
The Roving Vet
The Roving Vet is Vancouver's Homeopathic and Holistic Veterinary house call service, with an office at Waterworkz/K9Rehab Dog Spa.
Modiano Lab
Our lab is interested in understanding basic differences between normal cells and tumor cells. Our ultimate goal is to reduce the morbidity and mortality associated with cancer in humans and animals. As we learn more about how cancer cells differ from normal cells, we can explore these differences to improve diagnosis and treatment and devise better methods of prevention.
Bone Cancer Dogs
Our mission is to become the premier resource for awareness, education, hope and support of people who are dealing with bone cancer in their dogs. We believe that dogs and their families do not have to battle this disease alone.
Animal Cancer Centre of Colorado State University
Animal Cancer Centre of Colorado State University. The Robert H. and Mary G. Flint Animal Cancer Centre, at Colorado State University's James L. Voss Veterinary Teaching Hospital. This website, is intended to be a resource, for those seeking information about cancer, and the treatments available. The mission of the Animal Cancer Centre, is to improve prevention and treatment of cancer in animals and humans, and this is attained through the thoughtful, innovative, caring, and careful study, of the causes and treatment of this disease in animals.
The Merck Veterinary Manual (MVM)
The Merck Veterinary Manual (MVM) has served veterinarians and other animal health professionals as a concise and reliable animal health reference for over 45 years.
Animal Cancer Foundation (ACF)
The mission of the Animal Cancer Foundation (ACF) is to develop and support research that advances the prevention and treatment of cancer for people and pets..
Veterinary Institute of Integrative Medicine
The Veterinary Institute of Integrative Medicine, has compiled a list of the holistic veterinarians located in North America. These veterinarians have affiliations with the American Holistic Veterinary Medical Association, the International Veterinary Acupuncture Society, the American Academy of Veterinary Acupuncture, the American Veterinary Chiropractic Association, and the Academy of Veterinary Homeopathy.
PetSage
As we begin to take more responsibility for our own health, we soon recognize the health needs of our pets. PetSage offers you holistic and healthier choices for your companion animals, from diet, the foundation of health, to complementary and alternative therapies. The research time they have invested in each product line and item, has gained them a reputation as a knowledgeable and reliable source for holistic and natural pet care products.
YAHOO! Groups CANINE CANCER
This list was founded in 1999 and is a restricted group.  CanineCancer is a support group for people whose dogs are currently battling cancer. Discussions focus on the treatment of cancer in members' dogs.
PubMed National Library of Medicine
Provides a search engine, with many articles available on canine cancer.
National Cancer Institute
Includes: Cancer Information, Resources for Scientists, News Centre, and the Cancer Information Service, which provides the latest, most accurate cancer information.
Canadian Cancer Society
The Canadian Cancer Society is a national, community based organization of volunteers whose mission is the eradication of cancer and the enhancement of the quality of life of people living with cancer.  They are the largest national charitable funder of cancer research in Canada.
American Cancer Society
At the American Cancer Society, we're on a mission to free the world from cancer. Until we do, we'll be funding and conducting research, sharing expert information, supporting patients, and spreading the word about prevention.
Colorado State University Veterinary Medical Centre
Canine Acute Pain Scale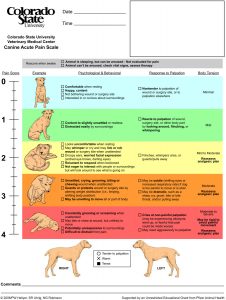 ANIMAL WELLNESS MAGAZINE
CityDog
Dogs Naturally
IVC Journal
Modern Dog
The Bark